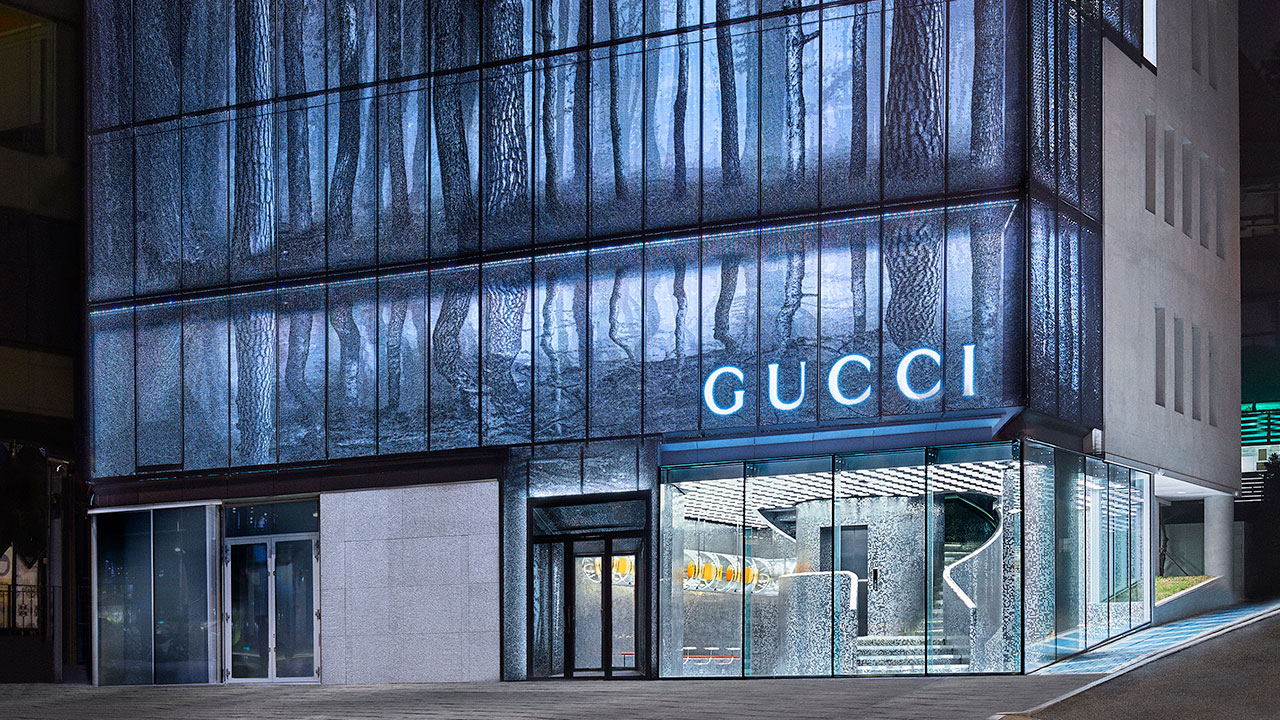 A visit to Gucci's stores: renewable energy, lighting efficiency and eco materials
Stepping inside a Gucci store is a visual and personal experience, created to delight and inspire. Behind the scenes we have adopted greener choices and set up eco-friendly initiatives. We have multiple efficiency programs in place, which also translates into minimizing waste production. We leverage new technologies and we have significantly increased the use of renewable energy. Employee engagement and our colleague's adoption of best practices also make a big difference in reducing the Environmental Profit and Loss (EP&L) footprint of our stores.
Green energy
Transitioning to renewable energy as a clean energy source is a significant component in Gucci's climate strategy. By replacing non-renewable energy from fossil fuels with energy from renewable sources, Gucci has reduced our CO2 footprint year-on-year, resulting in savings of 52,000 tons of CO2 in 2021. In 2022, we attained our 100% green electricity target in all of Gucci's directly operated stores worldwide, in accordance with the RE100s guidelines.
LEED certified stores
As a first for luxury brands, Gucci achieved the Leadership in Energy and Environmental Design (LEED) certification in 2009. Providing a framework to create healthy, highly efficient and cost-saving green buildings, LEED is globally recognized as the leading certification for buildings and a symbol of sustainability excellence.
Since then, the House has continued to achieve LEED certifications across our retail network, totalling more than 110 stores in 2022. The House plans to extend LEED certification to all 380 of our eligible directly-operated stores by 2025.
Lighting efficiency
We are promoting LED lighting retrofitting to guarantee significantly lower energy consumption, to promote longer-lasting lighting than the traditional options, and to cut down managing costs. Where possible, not only have our retail spaces been converted into LED lighting – including motion detectors to avoid unnecessary energy use – but also in stocks rooms and 'Back of House'. In 2022, about 90% of our total stores around the world used LED lighting and all new stores are designed using this eco-friendly lighting.
Energy monitoring
We are progressively installing Building Management System (BMS) in our main stores. While BMS allows control of heating, ventilation, cooling, hot water and lighting in buildings, it is also a diagnostic and energy information tool that helps limit energy wastage. Currently, 15% of Gucci's directly-operated stores are equipped with the BMS system. The House is rolling out BMS in 50% of our eligible directly operated stores, increasing this program by around 240% by 2025.
Waste reduction and collection
We are focused on the prevention of waste production in our stores. For example, we do not use disposable single-use plastic bottles for our staff and our customers, opting for glassware instead.
At the same time, all our stores have implemented best practices to recycle and manage the disposal of waste in a sustainable way. Where we are able to directly manage our waste collection, we focus on paper and plastic separation to guarantee proper recycling. Where we do not manage it directly, the landlord is in charge of the waste collection and separation whereby we observe all the best guidelines and directives for the location and city.
Finally, we have optimized the management of packaging transport, through a functional design that reduces the number of transports and the amount of waste material.
Digital sustainable back offices
We are switching to more sustainable Digital Stations for back-office activities that allow for significant savings on printed material, ink and paper consumption.
Our certifications
On top of these achievements, all our Italian stores have been certified under the SA8000 certification since 2007 and achieved the Health and Safety ISO 45001 certification in 2019.